1.
Wet Grinding
Oil mist and dust from wet grinding is effectively collected by Mist-Pacs with positional extractor arms, 6-in. diameter and 5-ft. length.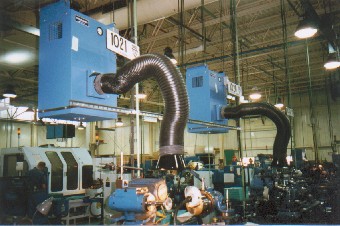 2.
Surface Grinder
Portable Mini Pac used to collect mist and dust from surface grinder.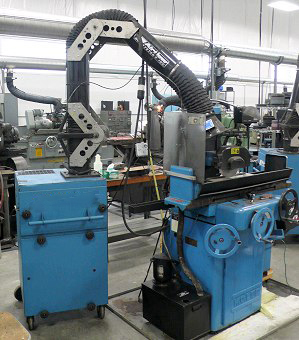 3.
Surface Grinding
A free-hanging collector captures mist and dust from wet surface grinders at a large job shop facility.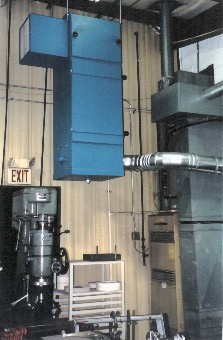 4.
Surface and OD Grinders
2400 VOM with 6" positioned arms used to collect mist and dust from Kolee Kent surface grinders and Cincinnati OD grinders.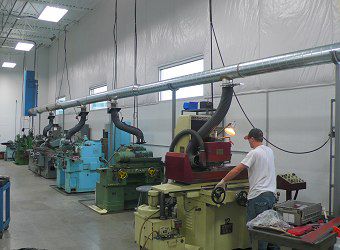 5.
Machine Shop — Unducted System
Free-hanging air cleaners filter the air of oil mist in the machine shop area of a defense contractor.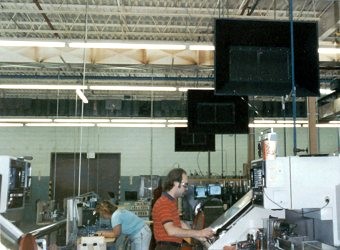 6.
Automotive Stamping
An F480 vertical mist extractor collects oil mist from an automotive stamping operation.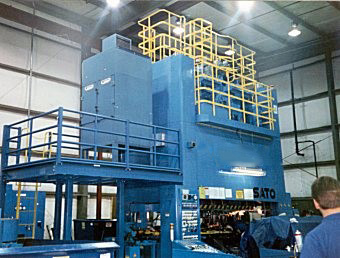 7.
Stamping
Metal parts manufacturer used MP-60 mist collector to capture oil mist from stamping operation. The MP-60 used a 10 HP motor and provided 5000 cfm to created a negative pressure in the cavity of the press.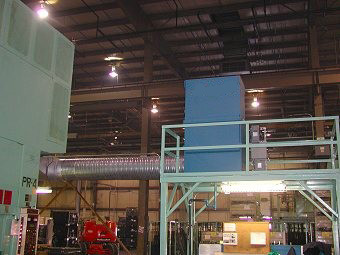 8.
Cold Forging
Total of (5) T-5200 double pass electronic air cleaners collect smoke from Jern Yao and Sakamura PF-530L cold forging operation. Each T-5200 uses a 5 HP motor and provides a nominal 5000 CFM. Collection filters in T-5200 are washable and reusable.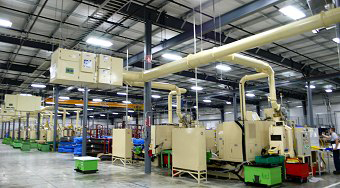 9.
CNC Mist Collection
Mist-Pac mist collector extracts mist from a small CNC at a lens manufacturer.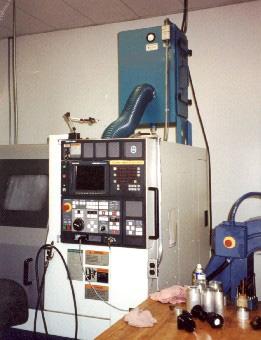 10.
Willemin Machining Centers
Medical device MFG machining titanium for spinal implants. Total of 12 MP-30 mist collectors collecting mist generated from Willemin CNC's, Fanuc Robodrill, Star SR-20R lathes and Citizen Cincom L20 lathes. Each MP-30 provides 2400 CFM with a 3 HP motor. Clamp together modular duct work was used with fire dampers above each machining center. Filter life for the MP 30's is over one year between change out.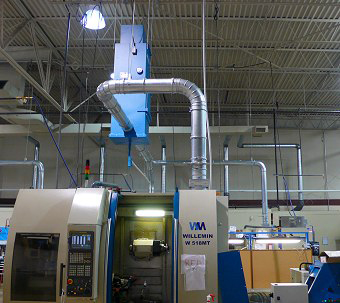 11.
Grinders
Mist-Pacs collect mist from small grinders.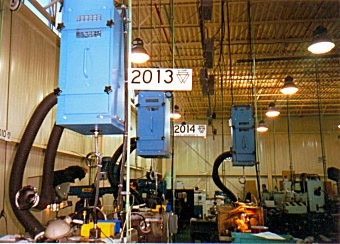 12.
HAAS CNC — MP-30
An MP-30 mist collector extracts mist from a HAAS CNC.
13.
HAAS CNC — DCH-2
HAAS CNC ducted to DCH-2 cartridge dust collector, 1200 CFM, 3 HP, auto pulse off line cleaning system, 8" clamp together ductwork, high vacuum port on DCH-2 for house keeping.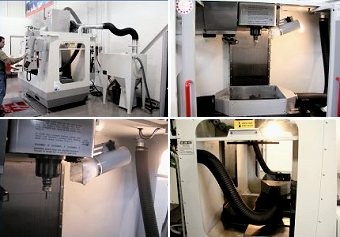 14.
Mazak CNC
A 2400 VOM mist collection unit filters mist from a Mazak CNC.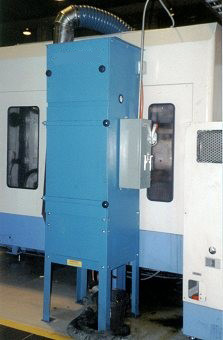 15.
Phoenix CNC
An MP-14 mist collector extracts coolant mist from a Phoenix CNC.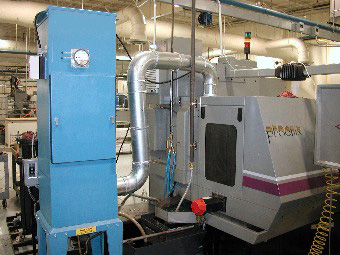 16.
EDM
A Mini-Pac portable media air cleaner collects smoke off a 100 amp EDM.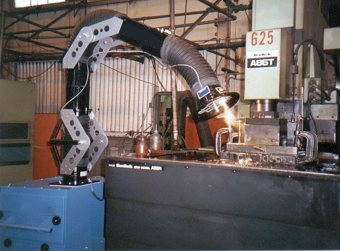 17.
Toyoda CNC
Heavy equipment supplier has more than a dozen Toyoda CNCs, with a 2400 VOM mist collector on each. The supplier reports over 6 month filter life with 16 hours a day production. The 2400 VOM uses a 3 HP motor and provides a nominal 2400 cfm. Each 2400 VOM is equipped with a Chevron Mist Eliminator and filter replacement pressure gauge. A drain trap is installed on the bottom of the 2400 VOM and the collected coolant is returned to the process.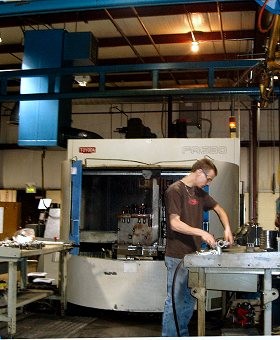 18.
Grinding Steel
Manufacturer of steel cutting tools used (4) MP 30 fiber bed mist collectors to collect mist generated from grinding. Each MP-30 provided a nominal 2500 cfm with 5 HP motors and was ducted to (4) 6" flexible positioner arms with clamp together piping. The filters in the MP-30s are lasting 2 years.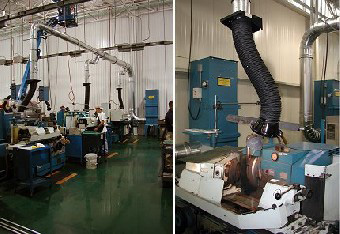 19.
Machining Centers
MP-30 Fiber Bed Mist Collector ducted to 3 CNC machines at a manufacturer of automotive stampings. The ceiling hung MP-30 has a 3 HP motor, a drain loop trap, and a nominal 2400 cfm. The clamp together ductwork has a laser seam weld to prevent any leakage. Filter life for the MP-30 is over 2 years.
20.
CNCs
MP 30 mist collector ducted to (2) CNC's, which operate 24 hours a day. Note the 4 fiber bed filters are cam lever locked in place. Filters are lasting 2 years and only the fiber bed pads are replaced; metal housings are reused.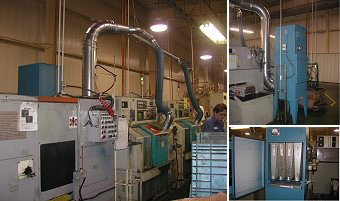 21.
Hardinge CNC
T3000 unducted cleaners remove mist/smoke from Hardinge CNC machining centers. This system improved the air quality by 80%.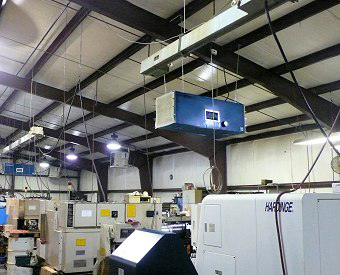 22.
Screw Machines
F-120 vertical air cleaners were used to collect the mist and smoke generated from screw machines. Eight units were installed about 10 feet from the finished floor and were arranged so as to create a circular air flow pattern. The F-120s provided 12 air changes per hour which improved the air quality 65-80%.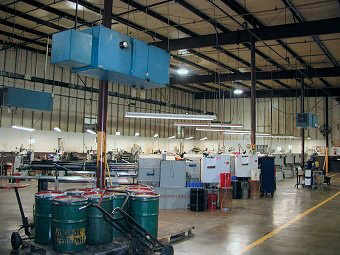 23.
Olympia CNC
MP-60 mist collector ducted to Oympia V60 CNC to collect coolant mist. A custom floor stand and extended life final HEPA's were installed on MP-60. The final HEPA's are used to collect lead dust.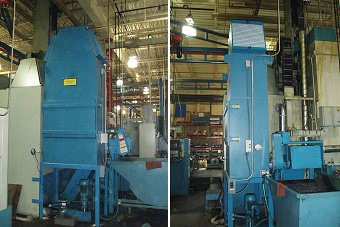 24.
Blanchard Surface Grinder
Model F-240 vertical air cleaner collecting mist and dust from a 84" Blanchard Rotary Surface Grinder. The flex duct allows for the table to traverse and a second hard duct is behind the spindle.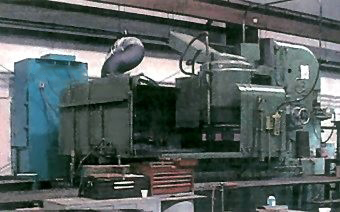 25.
Mori Seiki CNC Mist Collectors
Model MP-30 mist collectors were used to collect mist from Mori Seiki CNC models CL-25. SL-25, SL-204, SL-250 and SL 403. This machine shop standardized and purchased eleven MP-30 mist collectors. The filters have lasted so far 1.5 years. Besides keeping the plant 95% cleaner, customer indicated his machine tools run cooler which has improved production.
26.
Mori Seiki Mist and Smoke Collector
Double pass 1000 CFM electronic air cleaner collecting heavy white smoke and mist from a Mori Seiki CNC. Aluminum collection filters are washable and reusable.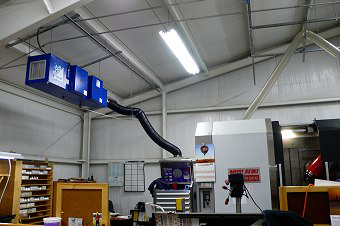 27.
Thread Grinder Mist Collector
1200 VOM mist collector used to collect mist from a thread grinder.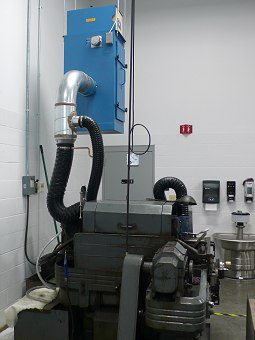 27.
Bardons & Oliver CNC mist collector
MPH-8 mist collector mounted on top of a machining center collecting coolant mist. The MPH-8 generates 800 CFM with a 1 HP motor. Filters last an average of 16 months.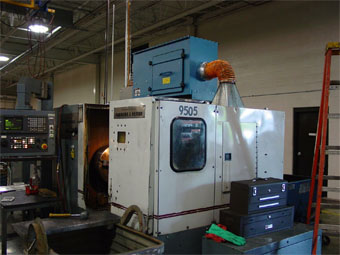 28.
Davenport CNC
MPH-5 mist collector mounted on top of a Davenport machining center collecting coolant mist. The MPH-5 generates 500 CFM with a 1/2 HP motor.